Justice for New York Workers
Dedicated Bronx work injury lawyers
Workers in New York make the city work. That's why an on-the-job injury can be so devastating. In an instant, you may be unable to support your family or meet your responsibilities.  The cost – emotional, physical and financial – of even a single injury can be overwhelming.
If you've been hurt on the job, you have the opportunity to seek justice, and the work injury attorneys at Giampa Law can fight for your rights.
Hurt on the job? Here's what you need to do
You need to take immediate action to protect your health – and your legal rights. As soon as possible after your work injury, you need to:
Get medical attention, even if you feel okay. A medical exam may reveal serious injuries with delayed-onset symptoms. This also helps you to document your injury if you later need to file a claim.
Notify your employer right away. This helps you protect your rights. Follow your employer's protocol for reporting an on-the-job injury. Although you legally can report an injury verbally, it's best to do it in writing, so you have a record of making the report. You need to notify your manager or supervisor, not a coworker.
Contact us. An experienced lawyer can deal with insurance companies and fight for the compensation you deserve.
Knee, ankle and leg injuries
Knee, ankle and leg injuries at construction sites happen for many different reasons. Some of the most common causes include:
Unmarked obstacles or hazards
Slip and fall accidents
Inexperienced construction workers
Defective construction equipment
Reckless construction workers
Scaffolding collapse
Distracted construction workers
Whatever the cause of your work-related leg injury, make sure you take your case seriously right from the start. Make sure you have Giampa Law on your side.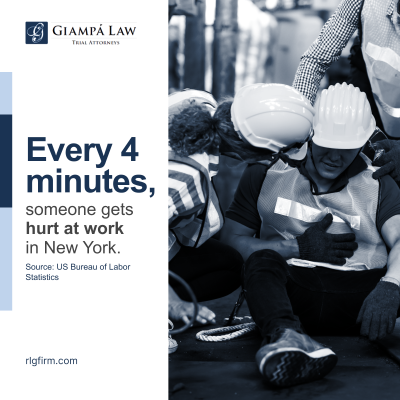 Work injuries and third-party claims
Injuries that happen on the job are unique because of the relationship between employees and employers. By law, you are entitled to workers' compensation benefits for your lost wages and medical expenses resulting from the work injury on a no-fault basis – that is, your employer is responsible for those benefits even if they were not negligent. However, you are not able to file a lawsuit against your employer for any losses not covered by workers' compensation, such as pain and suffering.
That legal protection, however, only applies to your employer and anyone working directly for your employer. If someone else was involved in your work injury, you can seek compensation from that other entity just as you can for any other injury.
Some common examples of work injuries that may lead to a third-party claim include:
You are hurt in a construction accident due to the negligence of a contractor.
You are injured while working off-site on a client's or vendor's premises.
You are involved in a car accident while on the job.
Taking legal action against a third party may be your only opportunity to get full and fair compensation for your work injury. It's rarely easy. The other person or company involved in your injury – and their insurance carrier – will fight hard to protect their bottom line. But with an experienced attorney from our firm on your side, you can make your case and pursue the compensation you need.
If you've been hurt on the job in New York, get the justice you deserve. Get Giampa Law. Call 718-665-7700 for your free consultation right now. We handle workplace injury accidents in the Bronx and throughout the greater New York City area.