Construction Deaths Skyrocketing in New York City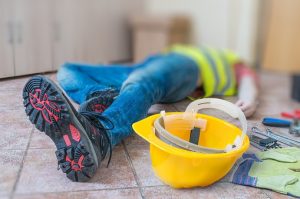 Juan Otoya did not need to work. At age 66, he could have retired from his job as a construction foreman. The father of three sons was working at a construction site last September on the Upper East Side because he wanted to help his wife's baby brother, a student at Yale University, pay his college expenses. He died when, according to police, he was struck by a road saw.
"He always tried his best in his life and in one second his life was gone, not fair, not fair," mourned his widow, Gaby Otoya. She said her husband "never had an accident. First time and he was gone."
Juan Otoya was among 16 construction workers who died in accidents in New York City over a one-year period. Deaths are up 33 percent in the past five years, while injuries have jumped a staggering 221 percent.
Why So Many Accidents?
A booming construction industry: "The past several years have been very busy, (with a) very robust construction market, but there shouldn't be anywhere near this many fatalities," NYTC Building & Construction Trades Council President Gary Labarbera said.
Unscrupulous employers: "Some contractors (are) willing to underbid the job, take it lower and they look to cut corners everywhere they can and the first thing is to hire cheap labor," according to bricklayer Jerry Gozdyra.
Part of the job: "It's always been a dangerous profession, but deadlines and pressures from when you gotta get it done sometimes causes you to take risks," masonry restoration specialist Christine Azzoli said.
Department of Buildings Deputy Commissioner of Enforcement Tim Hogan estimates a quarter of the city's 45,000 construction sites are not in compliance. He said the city is trying to protect workers through site inspections and safety training programs.
Act Now to Secure Your Future
Construction accidents can disable you for weeks or months, even cripple you for life. You might be unable to support your family as the bills pile up, the financial pressure adding to your physical, emotional and mental stress. At worst, like the Otoya family, you may have lost a loved one. An employer is never going to admit to their lax attitude toward safety contributed to an accident. They will hide behind attorneys while blaming the victim. An insurance company will make a settlement offer that falls far short of what a victim or their family requires or deserves.
The Bronx construction accident attorneys at Giampa Law know construction workers toil hard under dangerous conditions to provide for their loved ones. We will work just as hard to protect their rights and secure financial compensation for them and their families. Our dedicated legal team will investigate an accident, determine who is responsible, and fight to hold them accountable. Contact us today for a free case consultation.